Spirit Guides can often be placed into the following categories; Protectors, The Doctor, Teachers, Message Guides, Gate Keepers (or Door Keepers). I'd like to take this opportunity to introduce you to my Spirit Guides and to show how they fit into categories I've just mentioned.
PROTECTORS
are Spirit Guides who come when we need great inner strength and help us face tough challenges or crisis in our lives. Protector guides often appear as Native American Indians, Vikings or other warrior figures. One of my Protector guides is a Native American Indian called
'Charlie Dice'
. When Charlie was alive, he was a Sioux Indian who spent much of his time in the mountains with trappers, acting as a tracker.
Charlie first made himself known to my family and me in 1987. Several weeks after he first made contact, Charlie mentioned Wounded Knee. He said: 'The white man says Custer's Last Stand was a massacre, but little is said about the injustice at Wounded Knee when unarmed men, women and children were slaughtered by the soldiers!' Though I'd heard of Custer's Last Stand, I'd never heard of Wounded Knee before that day. Charlie told me he was trekking in the mountains when he heard about Wounded Knee. By the time he got to the scene of the massacre it was too late, many of his people lay dead or dying. Those who survived were taken back to the reservation camp. Their captors tried to wipe out any trace of their NI heritage and culture. Native Indian children were made to wear Western clothes and they were forbidden to speak their own language. Deeply saddened by the death of so many of his people, Charlie went back up into the mountains where he soon began drinking whisky and started gambling. The trappers nicknamed him 'Charlie Dice'. When no-one was looking, Charlie used to sneak into the reservation. He would tell the children stories about famous Indian Chiefs like Sitting Bull, so they would be proud of their NI ancestors and never forget their culture.
Two nights after Charlie first told me about Wounded Knee, I was randomly flicking through late night TV when I dropped on a channel that was showing a documentary about the Sioux and the massacre at Wounded Knee which took place in 1890. Charlie Dice proved a tower of strength to me and my family.
THE DOCTOR
is a spirit helper who was once a healer or physician. They assist us in our physical, mental and emotional healing. I have a spirit helper called
Dr Franz Berhardt
. When he was alive, he trained in diseases of the chest (mainly consumption or TB as it is now called) at St Gallen and later spent many years working in a TB sanatorium in Lausanne near Lake Geneva, Switzerland.
Franz also visited Saltzburg to study and train in diseases of the mind under a Professor of Mental Illness Genetic (this was later known as Psychosomatic Illness). The sanatorium where he worked had a small wing, used for patients suffering from mental illness. The mind, as well as the body, fascinated Franz Berhardt. He was born in 1841 and died in 1909 of a heart attack. His father came from Belfort, France and was a local doctor. Franz' mother died shortly after giving birth to him so he was raised by his grandmother (Helga Kilmeny). Franz gave all this detailed information to my mother (who was a medium) and asked her to write this down and give this to me, which she did.
At that time, I did not know why Franz Berhardt had come to me. However, two years later, a total stranger told me I had a helper called Dr Franz Berhardt who wanted to work with me. Shortly after I received this message, Franz Berhardt became my healing guide.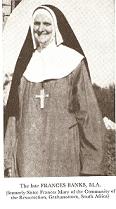 TEACHERS
are Spirit guides who help us with our spiritual growth. They are there to help us achieve our spiritual goals
. Frances Mary Banks
is my Teacher guide (see picture above) and, through her influence, I too became a teacher. This wonderful soul was once a nun in a convent in Grahamstown Rhodesia. Frances was first introduced to me in 1980.
As many mediums have nuns or Native American Indians as guides, I simply regarded Frances as just another spirit nun. When she first came to me I knew nothing whatsoever about Frances. It's taken me nearly twenty-five years, but now I know almost everything about her earthly life. During the last 6 years, I've even had the pleasure of speaking to two of her former friends. Frances used to hold prayer circles at one of these ladies' homes and she died while she was staying in the other friend's house.
It was only after I enrolled on an Adult & Further Education teacher-training course myself, that I first discovered Frances had not just been a nun, she'd been Senior Tutor at her convent responsible for training other nuns to teach children in South Africa. For 25 years of her life, Frances was an Anglican nun. She kept having psychic experiences she couldn't explain, these eventually led her to make the decision to leave her convent and to start dedicating her life to trying to prove the existence of Life after Death.
After Frances left Rhodesia she came back to England and became an adult education tutor at Maidstone Jail. While she was working there she wrote a book called 'Teach them to Live'. Frances also became a member of The Churches' Fellowship for Psychical and Spiritual Studies, an organisation founded to promote the study of psychical and spiritual studies (she gave many lectures on their behalf). Shortly before her death, Frances Banks became President of The Seekers Trust, a centre for prayer and Spiritual Healing.
As well as becoming an Adult Ed tutor, I also took up creative writing and went on to write (among other things) 8 children's stories. Three years later, I found out Frances Banks had written some children's stories too. I'd been searching for the names of these stories so I could find copies and compare Frances' children's stories with my own, and it was this search that first led me into making contact with both the Seekers Trust and The Churches' Fellowship. The Secretary of The Churches' Fellowship put me in touch with the first of Frances' former friends. He also sent me a newspaper that contains Frances Banks obituary and a book by Barbara Waylen called 'The Story of Frances Banks'. Inside this it lists Books by Frances Banks. Among the titles are 'A South African Wonder Book', 'Animal Ways' and 'People We Like'. So far it appears these children's books are out of print but, who knows, one day I may come across a copy somewhere.
When Frances Banks first came to me I was told one day I would walk in her footsteps. I never believed that was possible, but in many ways I have dont this, as I have done many of the things Frances did while she was alive. I did become a teacher and a writer and I've spent over 30 years of my life trying to prove survival of life after death and doing paranormal research. I became a spiritual healer and still send out absent healing. I run psychic awareness classes and always encourage my students to send out Absent Healing thoughts too. Like Frances, I too have come to believe totally in the power of prayer. Frances' dedicated most of her life to these things. She believed so passionately in survival after death, that I believe she even reached out from the Other Side and made contact with her former friends (using me to do this). I feel Francis wanted her friends to know everything she'd once believed in was true – that life is eternal!
MESSAGE GUIDES
are spirit helpers who help us develop our psychic abilities ie intuition, clairaudience, clairvoyance so we may receive spirit messages, or other forms of spirit information. Apart from the other guides I've mentioned, there are three more message guides I've worked with. They are
Fred Lunn
(who was Chinese),
Billy Bush
who was an aborigine and
Gwyn
who lived in Cromwell's times.
Fred Lunn was a unique spirit helper, as other spirit helpers I've written about weren't known to me while they were still alive. Before his death, Fred Lunn was a close friend of my ex-husband's and within 12 months of his passing, Fred returned and communicated with us. When they first met, Fred asked my ex to call him Fred, because most people couldn't pronounce his Chinese name. Fred lived and worked in China before the Communist uprising. During that terrible time, Communist soldiers tortured Fred and his assistant. They drove metal spikes through Fred's legs and thrust Fred's assistant's arm into a red-hot brazier full of coals.
Fred fled his native China via Tibet and eventually came to live in South Yorkshire. Fred was an amazing man who taught himself acupuncture to control the excruciating pain in his legs. He'd travelled extensively, spoke several languages and was extremely knowledgeable about spiritual and esoteric matters. As he was Chinese he had no difficulty accepting spirit communication. Most Chinese people talk to their ancestors, so Fred said it would not be unheard of for one of his family to become his spirit guide after they died. My ex spent many hours with Fred discussing mediumship and other esoteric matters (at that time my ex had just started doing trance).
Fred could also give readings and predicted that, one day when I was prepared to accept it, I would have acupuncture and it would cost me nothing, he said I'd go to Egypt and I would read rune-stones. Like many people, I hate needles so there was no way I'd ever have contemplated acupuncture, at least not back then. However, several years after Fred died, all of his predictions came true. I suffered with pelvic inflammatory problems for over 20 years and was in a great deal of pain for much of that time. Eventually my GP was the one who gave me acupuncture. At that time my GP was able to offer patients hypnotherapy, acupuncture and homeopathy free on the NHS. In 1994, I did visit Egypt with my sister and the trip was literally 'a dream that came true' for me. As Fred predicted, I did start reading runes. My first set of runes came from a car boot sale and they didn't have any instructions with them. Fred also communicated runic meanings for me to use. Two years later, I found a book that would have accompanied the runes I used and Fred's meanings were indeed true runic meanings.
Fred knew what it was like to suffer in life, so he kindly helped me when I was suffering too. He taught me this valuable lesson "If you wish you learn how to conquer pain you must forge your body, in the power of your own will!" Every time I read my runes I think of Fred and I will always be grateful to him for sharing his wisdom with me.
Billy Bush came to me to help me understand the reason behind a phobia I had. He taught me about the concept of 'Dreamtime'.
Gwyn lived in Gloucestershire during the time of the English Civil War. From the following communication Gywn once gave me, I take it she was a 'wise woman' or, as we would say today, a clairvoyant medium and herbalist.
She said, 'For today be of good conscience and know that I am with thee always. Always leave space for what can and will be – or should be! Wise women like me knew many herbal remedies to soothe the heart and pacify the mind. Eat wisely and sleep peacefully to enjoy good health. Be good to thy body and it will serve thee well. Tis this gift of goodness I bring to thee, if though will accept it in the spirit it is intended. Do not fear me, as I was feared for being what I am. You are no ways different. You see things, which many do not accept, out of fear. You know we exist, so did I. You live in a time, which is more tolerant to your kind – I did not! Are you not like me? Then why should I not help thee?'
Gwyn often guided my family and me to some beautiful places. She wanted to share her love of Nature with us.
Door Keepers/Gate Keepers
are spirit helpers that protect us from evil forces and negative entities. They allow only positive beings to come through and communicate with us. Anyone who works closely with spirit ie Platform, trance or other mediums must know who his or her Door Keeper is. When a medium takes a service there are always dozens of spirits trying to come through. A door/gate keeper is responsible for ensuring only one spirit comes through at a time and they leave when they've passed on their message to their loved ones.
I have had two door-keepers;
Amad
who was a Tunisian horse-trader who worked with both me and my ex husband and
Frances Mary Banks
. If you look in 'Pearls of Wisdom' section of this forum, you'll find some information Amad gave to me and more information about him.
I've finally finished introducing you to the spirit guides who still work, or who have worked with me in the past. Some spirit guides stay with us through our entire lives, others come to us at certain times in our lives and teach us valuable lessons, then they move on. As you can see my spirit helpers certainly fit into the categories I first mentioned, but some fit into more than one category ie Frances Banks is a Teacher and a Door Keeper guide. Amad was a Door Keeper as well as a Protector. Fred Lunn was not a doctor, but certainly helped me with my physical and emotional healing.
I hope you will find my Spirit Guide information useful and informative. I included it to prove you can find out a great deal about your spirit helpers. It does take time and a great deal of patience, but I feel it is well worth the effort.